Creative Zone Painting Free Workshop Coming Soon
Thank you for signing up to learn more about how to develop your Plan to Overcome your #1 Painting Limitation. I know I have a plan that will make a difference in your life. I will notify you as the FREE workshop opens again. Until then I will be sending you updates and suggestions to Overcome your
# 1 Painting Limitation.
Check out what else is coming to you at the Creative Zone!
Finding a Way for YOU
to Find Your Own Path as an Artist
Judith Reidy Instructor
I have been teaching for years and painting even longer. Over my time painting and teaching I have seen and experienced myself many of the common limitations….blocks to painting. Creative Zone Painting has developed out of that experience. Working out the online technical aspects of this class for over a year, coupled with in depth student interviews, I am excited to launch this interactive program. I have decided on an interactive program because I feel it offers the best assessment and adjustments for a student centered program.
If you would like to know a bit more about me and my creative endeavors, check out www.judithreidy.com as well as the many other sites where I have my comings and goings.
I want to you to travel with me as we experience painting principles and explore creativity in painting together.



TOTAL Immersion
Creative Zone Painting
YOUR Painting will never be the same!
YOUR Confidence will skyrocket!
You have the opportunity to take a transformative journey. Not only will your information increase but more importantly your exploration skills will be pushed to the limit. Don't be timid. Remember 15% to 20% of the artist journey is information, while 80% to 85% of the artist journey is developing and honing exploration skills. It is with exploration that your curiosity blossoms and your creative skills are allowed to flourish.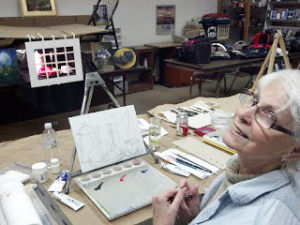 After graduating with a BFA in painting and drawing Judith began her 40 year career as a teacher and artist. As an award winning artist, she found her greatest joy is motivating her students to see the unique excellence they possess.
Be Transformed in the

Creative Zone Painting